Elevate Your Space with Marble Countertop Materials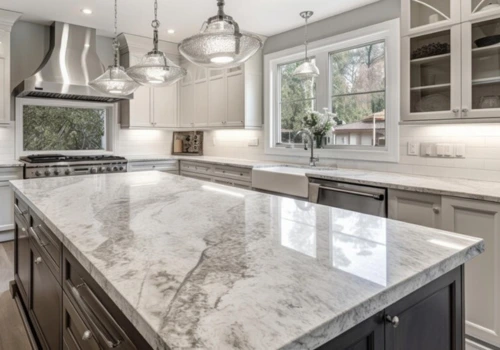 Marble, a metamorphic rock formed through the recrystallization of calcite, dolomite, or similar carbonate minerals, is renowned for its exquisite veined patterns. In the present day, advances in technology have made it possible for nearly every homeowner to relish the beauty and opulence of marble countertops. When taken care of with proper sealing and maintenance, marble countertops can endure a lifetime of use.
Our Long-Lasting Marble Countertop Materials
Marble has been used for thousands of years for its beauty and durability. The bright whiteness of marble and unique wood grain pattern cannot be found with other natural stones. Even marble-patterned quartz material cannot reproduce the natural properties and beauty of marble. With over 15 years of experience in the industry, our team at APF is dedicated to making our customers happy. That's why we provide 'Free In-Home Estimates.' This means you can explore various marble countertops without any financial commitment upfront. We always uphold the highest standards for our marble countertops and offer efficient installation services without compromise.
Our team is happy to answer your questions. Fill out the form, and we'll contact you immediately.
Why Choose Us for Marble Countertop Materials?

Expertise and Precision
At APF, our team of experienced professional countertop installers possesses unparalleled expertise in marble countertop installation. We understand the complexities of working with marble, ensuring precise measurements, cuts, and seamless integration into your living space.

Customer-Centric Approach
From the initial consultation to the final marble countertop installation, we prioritize clear communication. Our goal is to ensure your experience with us is hassle-free & that your countertops become a source of pride in your home for years to come.

Premium Quality Materials
Our marble countertops are crafted using the finest materials available. We take pride in utilizing only the most exquisite and top-tier marble. These materials are selected for their exceptional quality and durability, ensuring that your countertop is a testament to luxury and longevity.

Easy Customization
Our experienced countertop team takes pride in offering personalized solutions that cater to your specific needs and preferences. We work closely with you to customize your marble countertops, ensuring they seamlessly integrate with your home's aesthetics.
Frequently Asked Questions
After sealing the stone, cleaning becomes easy. Simply dust it once a week and then wipe it down using a clean cloth dampened with lukewarm water and a small amount of a neutral cleanser.
Marble countertop materials are highly durable, but what sets them apart from other materials is their high resistance to heat. These materials also enhance the appearance of your property more than any other countertop materials.
Marble is relatively soft and porous, which means it should be sealed. While it may come sealed when purchased, homeowners should reseal it every few years to prevent staining or etching. Luckily, this is a simple process. Start by cleaning the countertop with water and a gentle cleanser, allowing it to dry overnight. Next, use a clean white towel to apply a coat of sealant to the stone, making sure to adhere to the manufacturer's guidelines.
Absolutely! At APF, we believe in the importance of personalization. You can work with our design experts to choose from a variety of marble types, colors, and edge profiles to create a countertop that suits your unique style and preferences.
The installation timeline at APF can vary depending on the scope of the project, but we strive to complete most installations efficiently. Our team will provide you with a detailed project timeline and keep you informed throughout the process.
Marble slabs can be installed on various surfaces, including wooden cabinets, drywall, and concrete. Proper preparation and support are necessary for a successful marble slab installation.