April might begin with the classic fool's day, but there are no fools to be found when it comes to the marble slabs available at A Polished Finish. Marble is an exquisite natural stone to use for countertops in your kitchen, bathroom, and anywhere else you are looking to add a touch of beauty and class to your home. The natural patterns created by the veining in marble can be highly variable, giving you a wide variety of color options that will match your decor perfectly. Let's talk about our marble options, and why it is such a sought-after natural stone slab.
Great For Chefs
Marble countertops have been highly prized for ages by chefs and bakers. The natural stone slab is naturally cool to the touch, making it the perfect surface for everything from rolling out dough to making fresh, handmade pasta…right on the countertop! Bakers especially love this, as other countertops don't offer this feature, and many of them can actually warm up food items more if they are being worked on the countertop. This makes them less friendly to baking in terms of anything from cooling down warm chocolate for tempering to keeping dough consistently cool while working with it, whereas marble is just the opposite.
Additional Features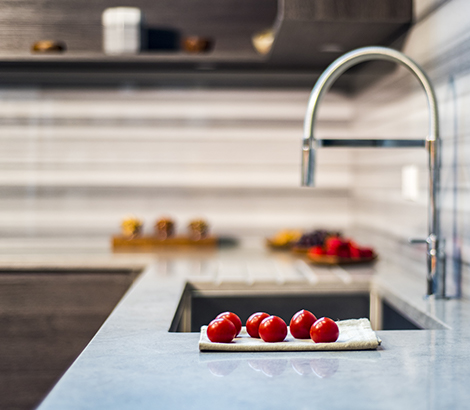 There are a number of other great features of marble. Its surface is naturally reflective of light, so it makes any room look brighter all the time. Marble's cool surface is also naturally heat-resistant, so you can place food on it to cool it down. Make sure you don't place scorching hot pans directly onto marble, however, as they may scorch its finish and destroy the slab irreparably. 
Marble is also highly durable. It's scratch- and crack-resistant, because it is a natural stone. While it can stain — so don't place food items that stain easily such as beets or turmeric directly on its surface — it isn't likely to if you take care to attend to the food items you place on top of it. Consider that anything that stains your hands will likely stain your marble countertops, too.
While it can stain easily, marble is also very easy to clean, too. A solution of warm water and dish soap works to get most stains out, and is the perfect cleaner for your marble countertops. Stubborn stain? A paste of baking soda and warm water left to sit overnight on the countertop will almost always get it out. Just make sure you don't use any abrasive cleaners on your marble countertops. The acids in them can etch the marble.
Because marble reflects light so well, it also makes small spaces look bigger. If you have a small kitchen or bathroom, marble is the perfect choice for your countertops because it does naturally make the space look bigger. And, depending on the slab that you choose, marble is actually a much more affordable option than many other natural stone options. The thickness of the slab can make all the difference, but you generally don't need a very thick slab for your countertops (unless you are specifically looking for that type of aesthetic), so marble is actually generally a much more affordable option than you might think.

A Surface That Is Uniquely Your Own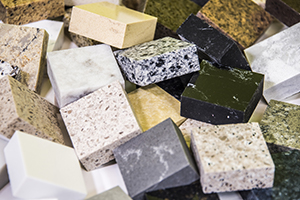 Marble is completely different from slab to slab, because it is a natural stone. Unlike composite and other synthetic countertops that come in a variety of patterns, marble slabs vary from one slab to the other. If you and your neighbor have matching countertops, it's because you both picked the same pattern from the available synthetic countertop options. If you and your neighbor both have marble countertops, they will still look completely different. Your marble countertop is completely unique.
Is it time that you installed marble countertops in your Atlanta-area home? Look no further than A Polished Finish for all of your marble needs. We stock a wide selection of beautiful marble slabs to fit the decor of any home. Come and see us today!